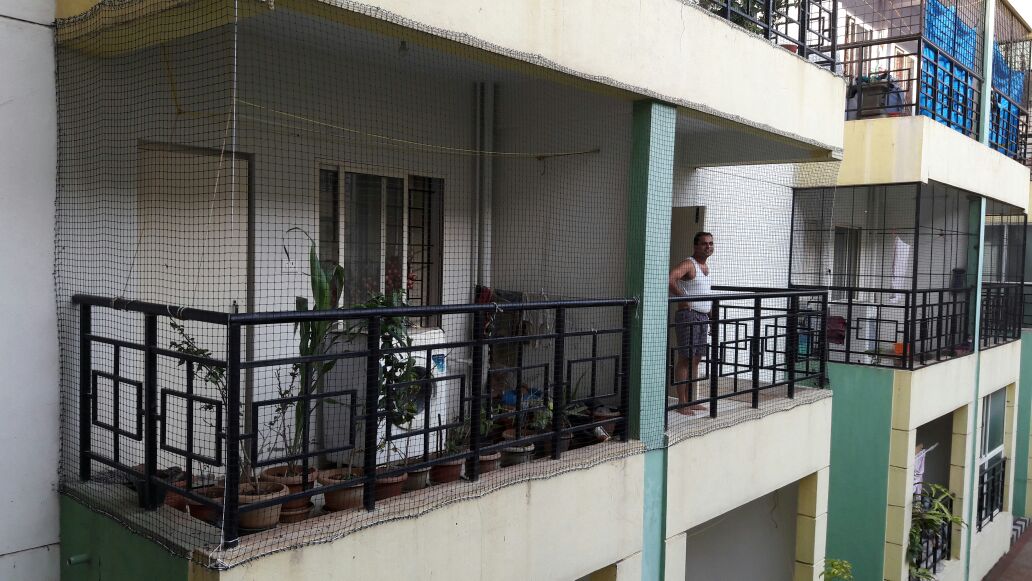 Balcony Safety Nets in Pune?
As we all love balcony or balcony scenery. Especially sea facing balconies, with this we should also look at our safety too. Concerned about our homes, safety is the most typical desired quality, many of us often neglect the importance of Safety Nets.
What is Balcony Safety Nets?
Balcony Safety Net is a protection from the big accidents that may happen in balconies i.e. the fall of any person especially our little children. Disturbance caused from birds can be avoided with these safety nets and are deflecting to dissipate the impact energy.
We offer high quality and inventive child safety nets. To avoid accidents happening from balcony just install the balcony safety nets.
Benefits of Balcony Safety Nets
Durable balcony Safety Nets must be Installed for ensuring 360⁰ home safety. Then too, balcony Safety Nets can provide more benefits to a homeowner, they are:
Firstly, safety of the most important and precious ones for homes especially having children.
Balance: When a person somehow loses balance on a platform, they usually hold the railing - Safety Nets provide stability.
Prevention: To help protect wild pets or unaware adults, Safety Nets provide a needed barrier between a surface and a high drop.
Comfort: During heat weather, high platforms can be dangerous. These Nets can provide enhanced support and allow you to feel more comfortable to walk on the platform.
Why Balcony Safety Nets?
We offer a thorough list of Bird Protection Nets in wide good looks, sizes, styles and colours.
Makes Balconies more Safer for People
A Net on the Balcony to Protect from weather conditions
New design, Easily adapts to any environment.
High-Performance and Natural Ventilation
Use of Best Accessories for Balcony Safety Nets
High tensile strength
Almost invisible from Distance
HDPE Nylon Net, Tuff Nets, and Garware Nets.
How to Choose Best Balcony Safety Nets?
We are here to help you to protect your properties as well as people. Depending upon clients requirement such as where the clients want to put net balcony, window sides, doors side, terraces side, stairs side, pools side etc.
Relying upon requirement some types of nets to be installed are:
Children Safety Net: It will protect your children from falling from the balconies while playing on the balconies.
Pigeons Protection Nets: Pigeons enter the house and spoil the food and other valuables. By installing net you can prevent causing health issues.
Coconut Safety Nets: Having a coconut tree in your residence and your garden can be little dangerous, as coconut may fall on the head or any body part at any time.
Glass Safety Nets: To avoid causing serious accidents usually it is used in construction sites.
Monkey Safety Nets: This net will cover open space where monkey keeps troubling you. These nets are made from very strong and hard materials.
Staircase Safety Nets: At Children's homes and Retirement homes these nets are very useful.
Superior Quality Net: We provide best quality safety nets.
Competitive and Reasonable Pricing: the best Quality in best industry prices for all our grateful customers.
Balcony Safety Nets near me?
Bgr bird net services are one of the best Balcony Safety Nets provider in Pune. The balcony Safety net is used to protect children's and elder's unexpected falling balcony.
We are providing a Balcony Safety Nets services in the following areas Akurdi, Pimple Saudagar, Chinchwad, Bavdhan, Pimpri, Wagholi, Bhosari, Kalewadi, Ravet, Dhankawadi, shikrapur, vishrantwadi, Lohegaon, Hadapsan Industrial estate, mundhwa, pairangut, Chakan, Mulshi, Sadashiv Peth, Pairsungi, Manjari Budouk, Ranjangaon, Gho degaon, shirur.
Balcony safety net installation:
Bgr bird net services are one of the best Balcony Safety net installation in Model Colony, Shivaji Nagar, Viman Nagar, and warje.
Installation price:
Bgr bird net services Installation price is affordable and cost-effective compared to the market. Bgr bird net services provide Balcony Safety net services in Uril Kanchan, Azad Nagar, Bopodi, and Ranjangaon Sandas.
Installation cost:
Bgr bird net services provide cost-effective Balcony Safety nets and free installation in Aundh, Hadapsar, Market Yard, Bhosari. Also, Staircase Safety nets in Deccan Gymkhana, kothrud, Khed shivapur, and Theur in this area services are provided by Bgr bird net services.