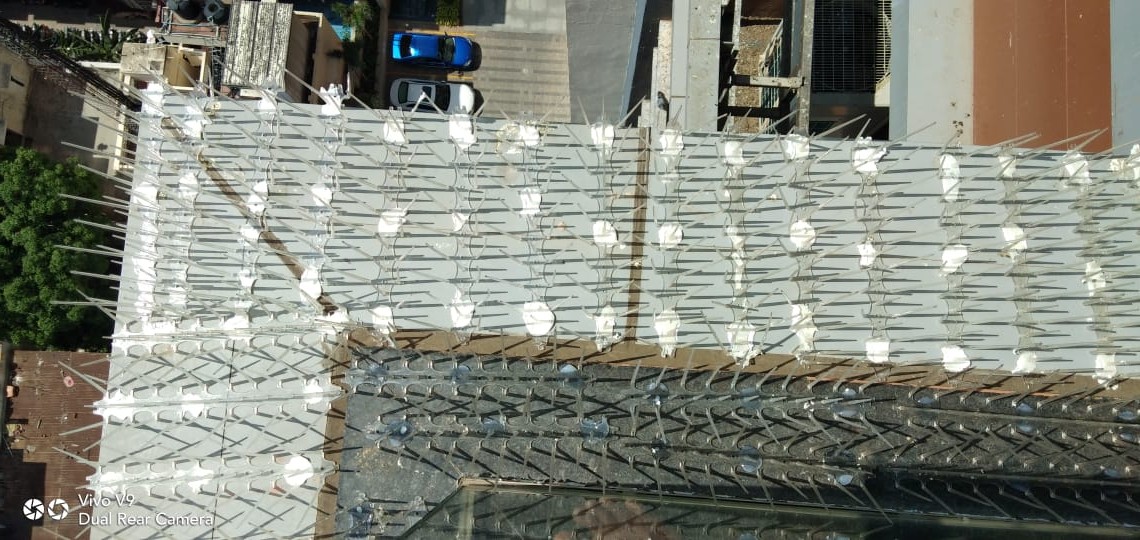 We are face several problems with birds/pigeons in our places like hospitals, factories, apartments and hotels. Our team experts are specialized in manufacturing nets & installing staffs. Balconies compulsory required bird spikes because balcony is one of the relaxation place for all. Bird started their lives in balconies of apartment through laying eggs.
In balconies, birds are release menace that makes a bad smell for whoever living in apartments. Due to that humans are affected with lung diseases.
Overhangs are the best option to protect our sweet home, lovely kids, pets and articles that may fall from tallness and so forth.
BGR Bird Safety Nets offer Spikes option by bird proofing your residence and workplace together with all the Bird Spikes installed. And most important thing this does not harm birds at all. It is extremely eco-friendly and so most common. Hence, Birds and we both are safe.
What is Bird Spikes?
This tool consists of long rods which are look like needles. Birds Spikes are neither very blunt, nor very sharp and are fitted at building shelfs, street lightening and commercial panels. These nets prevent birds from perching or roosting on. Large amount of unwanted wastes can spoil the hygiene of the our surrounded place if entry of birds is not controlled.
Benefits of Bird Spikes
Almost, length of 30 cm or 0.98 ft. long.
Decreases the landing area for birds and hence highly reduce the chances of birds to rest on.
This same tool is applied to other species of birds also like pigeons, sea gulls, sparrows and crows.
This very small step can help you to avoid various diseases and stay healthy.
Use greatest quality grade stainless steel onto a polycarbonate or hard PVC.
Get relaxed about bird's droppings or diseases caused by brute now.
Spikes are eco-friendly solution to pigeon menace.
Why Bird Spikes?
Fortunately, bird spikes are safe and environmentally friendly.
The spikes make it difficult for birds to land.
Most importantly Birds are too safe.
It also doesn't make a hole in your pocket too i.e. it's cost-effective.
Both stainless steel and plastic spikes are strongest and will last up to 10 years or more.
Applied in places like condo complex, warehouse, hotels or a shipping facility, birds can be a big trouble.
Thankfully, bird spikes are easy solution that you have been searching for.
How to choose Best Bird Spikes?
Relying on your question, where you want to put spikes like on window sides, terraces side, pools side stairs side, etc.
Each has several benefits depending on the required things:
Stainless steel spikes: Sunlight make the used metal almost invisible from most viewpoints. Stainless steel is a great choice for structure who doesn't want to drive attention of birds. Even though it does resist corrosion well, it isn't rust-free; creating a strong and engaging appearance. It covers a larger area.

Plastic Spikes: Are not costly and stronger than steel spikes. These are made from strong polycarbonate material, which allows them to stand still with the weight of heavier birds such as hawks or raptors. And, are available in different colors, making them a first choice for schools that might use to avoid pest problem that help to promote school spirit, because they're designed to work with the building's architecture.

Frequently Asked Questions

Bird Spikes are made from?

Mostly bird spikes are made of stainless steel or with plastic made from UV polycarbonate which doesn't become brittle or yellow. We provide you with the quote for your choice of spikes and also help you in getting the perfect fit for you.

Where do you can put bird spikes?

Can install it any place you want to prevent birds roosting or perching on such as - Window Sills, Roof lines, Parapet Walls, and I-beams. As per your choice of spikes – BGR Bird Safety Net offers the best with great experience.

Do Bird Spikes Harm Birds and Animals?

Definitely not, Spikes are made Eco-friendly so it does not harm or kill birds but only prevents them from roosting on ,pooping leading to respiratory diseases such as Cryptococcus's and Psittacosis.

Do Bird Spikes dealers in Hyderabad install at my place?

Definitely! Most of the dealers do offer installation services and might be at free of charges. Just ping them before you order and get confirmed.

Are they suitable for my structure?

Before installation one just need to consider, how and where they want to be installed. With a good experience in this field, our staff would easily help you in how the Spikes would fit your structure. The best you'll get with us just give a call.

Bird spikes near me?

Bgr bird net services are one of the best Bird spikes providers in Hyderabad. Bird spikes are used to protect buildings, apartments from pigeons sitting and making unhealthy environment.

We are providing Bird spikes services in the following areas Bandlaguda, miyapus, Alwal Kompally, Thirumal giry, Uppal, Dammaiguda, Bollaram, Attapug, Habsiguda, Mehdipatnam, Begumpeta Secunderabad, kukatpally, Shamshabad, Nizampet, Kavadiguda, Upperpally, Yapral, Shaikpet, Sainikpuri, Toli chowki, Raiburg.

Bird spikes installation

Bgr bird net services are one of the best Bird spikes installation in banzara hills, Komallya, manikonda & Jubilee hills.

Installation price:

Bgr bird net services Installation price is affordable and cost-effective compared to the market. Bgr bird net services provide Bird spikes services in Lingampally, Jeedimetla, madhapur & Ameupet.

Installation cost:

Bgr bird net services provide cost-effective Bird spikes and fewer installation charges in khajaguda, Gachibowli, Nachariam & Kondapur. Also, Bird spikes in kukatpally, Bachupally, Hitech city & Kokapet in this area services are provided by Bgr bird net services.